Rev. Jaganath, Integral Yoga Minister and Raja Yoga master teacher, has spent a lifetime delving into the deepest layers of meaning in Patanjali's words within the Yoga Sutras. This series continues with the third and key sutra of Chapter 1— Tada drastuh svarupe'vasthanam. Then the Seer (Self) abides in Its own nature—in which Rev. Jaganath focuses in on the term "avasthanam."
Avasthanam in this context can have many shades of meaning, all appropriate to the sutra. Many translations read something like: Then the Seer rests (or abides) in its true nature. This seems to suggest that our essential Self is fatigued or subject to change. This is not the case. What this word is indicating is that as a seeker progresses on the spiritual path, glimpses of a Self that transcends all former notions of self-identity begin to emerge. In the beginning they come and go. With continued practice, they increase in depth, breadth, and length until a direct, ever-stable experience of the Self that is always present, always infinite, beyond space and time is realized. In other words, the experience of the Self becomes stable—it rests.
This leads us to a subtler understanding of what is meant by the Seer standing apart. Our conceptions of the Seer, Self, Cosmic Consciousness, or God is part reason, part faith, part experience, but largely projection. When we say that the Seer stands apart, we mean the Seer experienced as it is, free of the overlay and colorations of our biases, hopes, fears, and conceptions. We gradually learn to allow God to be God, to resist shrinking the highest reality to fit our limited ego's vision. This understanding resonates with sutra 2.5, which discusses the major, most impactful manifestations of ignorance. Four are listed: regarding what changes as changeless, what is impure with what is pure, what brings pain as that which brings contentment, and lastly, regarding the non-Self as the Self. This last on—projecting our conceptions onto Reality—is what we are discussing here. These manifestation of ignorance are what stands between every seeker and Self-realization. They permeate every corner of our minds, every moment of our lives. To correct our perception, to transform our minds so that the Self/Seer can be realized takes on holistic approach, the kind of approach typified by Yoga. That is why Yoga is not just about the formal practices, but how we live our lives.
Avasthanam also resonates with a fundamental theme found in the Sutras: to identify or discern the difference between the mind (especially, a clear, tranquil mind) and prakriti. That is why one good translation of avasthanam is: to stand away from, or stand apart from. This definition suggests the freedom that arises from experiencing the Seer as different from, or liberated from, the seen (Patanjali calls this state kaivalya, independence or isolation.). The Seer doesn't fully express in an individual until the confusion between the pure, eternal consciousness that is the Seer and the seen as body/mind is removed. Removing this confusion is the end goal of all Yoga practice and theory.
About the Author: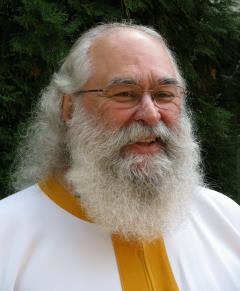 Reverend Jaganath Carrera is and Integral Yoga Minister and the founder/spiritual head of Yoga Life Society. He is a direct disciple of world renowned Yoga master and leader in the interfaith movement, Sri Swami Satchidananda—the founder and spiritual guide of Satchidananda Ashram–Yogaville and Integral Yoga International. Rev. Jaganath has taught at universities, prisons, Yoga centers, and interfaith programs both in the USA and abroad. He was a principal instructor of both Hatha and Raja Yoga for the Integral Yoga Teacher Training Certification Programs for over twenty years and co-wrote the training manual used for that course. He established the Integral Yoga Ministry and developed the highly regarded Integral Yoga Meditation and Raja Yoga Teacher Training Certification programs. He served for eight years as chief administrator of Satchidananda Ashram–Yogaville and founded the Integral Yoga Institute of New Brunswick, NJ. He is also a spiritual advisor and visiting lecturer on Hinduism for the One Spirit Seminary in New York City. Reverend Jaganath is the author of Inside the Yoga Sutras: A Sourcebook for the Study and Practice of Patanjali's Yoga Sutras, published by Integral Yoga Publications. His latest book Patanjali's Words is a work-in-progress.