The first thoughts of proposing some type of ministry for the Integral Yoga organization occurred in the winter of 1980.  My mother had been a member of the Third Order of St. Francis when she was young. This order was established by St. Francis in response to a request by the Pope to help stem the rising numbers of Europeans who were joining either of the saint's monastic orders (the Friar Minors and the Poor Clares). There was the fear that the population of Europe would decrease to dangerously low levels. The Third Order was a non-monastic one composed of men and women, either single or married.  Meanwhile, I believed that there were many householders in our sangha that shared the same zeal as their sannyas (monastic) brothers and sisters, but had no way of formalizing their devotion and dedication. An order of ministers seemed a logical step.
After several of months pondering this idea, I mustered the courage to write to Swami Satchidananda (Sri Gurudev). On 7 March 1980, I nervously posted the letter, fearing that perhaps I was being inappropriate or far too presumptuous. I still considered myself to be a beginner, having begun my practice of Integral Yoga only seven years before.
A few weeks later I received a reply from Sri Gurudev: "I was thinking of this myself, so I am really thrilled to have you come forward in this regard. It is really a great idea to have a ministry." In 1979, Gurudev had helped his good friend and fellow interfaith advocate Rabbi Gelberman found the first interfaith seminary in America. In 1966, they founded, along with Br. David Steindl-Rast and a Zen roshi, the Center for Spiritual Studies. Over 15 years, Integral Yoga hosted an annual program "The Swami and the Rabbi," with Gurudev and Rabbi Gelberman.
So, the idea of having the first Yoga-based interfaith ministry was in Gurudev's heart and mind, something I didn't know at the time! While I was so happy to hear his response to my suggestion, I didn't expect what came next when he told me, "I'd like you to organize this and arrange for our first ordination this Guru Poornima." I really couldn't believe that I understood this directive correctly. Surely, there were many others more senior, more knowledgeable, and more in-the-know of the ways of the organization than I. I even called his secretary to confirm this. "Yes, she said, Gurudev wants you to organize this."
To organize a ministry meant establishing guidelines for applicants, creating an ordination ceremony, writing vows, establishing an entire tradition. I sought out the advice of several senior sannyasis and began the work. Sri Gurudev appointed a number of senior students to be on the first Ministry Board. Sri Gurudev reviewed and approved the first draft of our proposal. I thought I had fulfilled Sri Gurudev's instructions to me. As I was living in New Jersey, a number of Board members (including myself) felt that someone who lived at the Ashram should take over and coordinate the efforts. Without consulting Gurudev, I spoke to one of the Board members who agreed to take on the responsibility of chairing the Board. However, when Sri Gurudev found out, He called me and declared "I put you in that position. You are there for a reason. You are to stay there until I say you can leave."
Soon Gurudev asked me to come to the Ashram (then in Pomfret, Connecticut) to announce the new order. Near the end of satsang, he invited me sit next to him on the floor so that people "could just look at you." He didn't immediately address the ministry, but went ahead with a few other items. Several long minutes later he announced that I would explain the details of this new development. Afterward, he invited questions and soon took over the task of answering them himself. He said, among other things, that he considered the ministry to be "almost the same as sannyas. There is really only a small difference." This was before we decided to accept single people as candidates (that option was opened up by the sincere requests of the late Rev. Subhadra Jyothi).
In the beginning, there seemed to be a hesitation in applying for this new order. For the first few weeks, no one applied. Perhaps this was because there were some who thought that Gurudev was not really "serious" about this new order, that is was going to somehow be a "made up" ministry. And maybe there were others who were interested, but were waiting to see if anyone would apply. In fact, during those first few weeks after the announcement, I had not applied myself. I had doubts that I was either worthy or senior enough for such a great blessing.
Meantime, Gurudev suggested that I work with Paraman Barsel (now Rev. Paraman), at that time the director of the Integral Yoga Institute of New York, in further developing the ministry guidelines and policies. Finally, after much soul searching I decided to apply, becoming the first official applicant. Only a day or two later, several others applied and by the time Guru Poornima in July 1980 rolled around, we had 23 candidates, 16 on the East Coast and 7 on the West Coast. The first ordination was held in Santa Barbara since Sri Gurudev was to be there for Guru Poornima. The East Coast ordination was held a week or so later.
At the ordination, we were given gold sashes as visible signs of our commitment. At one point, the Board felt that ministers should always wear a particular color, but Sri Gurudev said that he did not want them to stand out in that way, but to blend in to those around them. He suggested a white kimono type robe with the gold sash that became our first official ministerial robe design. At the ordination, after the puja, Gayatri Mantra and vows, Sri Gurudev patiently taught us the way to tie the sashes. It was precisely the same way that he tied the sash on his own coat. It had to be on the right side midway between the navel and the side of the body with the loop pointed to the rear. He went to each and every newly ordained minister to check and correct this. These robes at that time, by his suggestion, were fashioned after his very simple, yet elegant, overcoat.
The Integral Yoga Ministry is an interfaith ministry because interfaith understanding was foundational to Sri Gurudev's teachings, summarized in his well-known motto: "Truth is one, paths are many." He clarified that while it was appropriate for Integral Yoga ministers to co-officiate at ceremonies of other faiths and to add elements to any ceremonies from any tradition, ministers should not officiate as ministers of other faiths, which they aren't.
Over the years, Sri Gurudev emphasized other important points for ministers to remember, including these:
"A minister is mainly someone available for public service. If you are not interested in public service you can be a good yogi, a good student. Otherwise, if there is not the interest to serve, why would one want to be called a minister? Because you call yourself a minister, the public will expect you to come to their homes and perform some services.
"Live up to the teachings, and be proud that you are an Integral Yogi. Let people recognize, just by even seeing you, that you are an Integral Yogi. Be more responsible for the growth of the organization. It's not enough to be a minister. Know that this is your organization, it's not just mine. I know that I won't always be around always with you. I have spent enough time, so even if you are going to keep me alive for several more years, I would like to quietly sit there and watch everything growing and that everybody is taking an interest in making it grow."
More information about the Integral Yoga Ministry here. If you are interested in more information or applying to the Integral Yoga Seminary, contact: ministry[at]integralyoga.org
About the Author: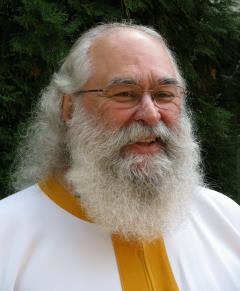 Reverend Jaganath Carrera is and Integral Yoga Minister and the founder/spiritual head of Yoga Life Society. He is a direct disciple of world renowned Yoga master and leader in the interfaith movement, Sri Swami Satchidananda—the founder and spiritual guide of Satchidananda Ashram–Yogaville and Integral Yoga International. Rev. Jaganath has taught at universities, prisons, Yoga centers, and interfaith programs both in the USA and abroad. He was a principal instructor of both Hatha and Raja Yoga for the Integral Yoga Teacher Training Certification Programs for over twenty years and co-wrote the training manual used for that course. He established the Integral Yoga Ministry and developed the highly regarded Integral Yoga Meditation and Raja Yoga Teacher Training Certification programs. He served for eight years as chief administrator of Satchidananda Ashram–Yogaville and founded the Integral Yoga Institute of New Brunswick, NJ. He is also a spiritual advisor and visiting lecturer on Hinduism for the One Spirit Seminary in New York City. Reverend Jaganath is the author of Inside the Yoga Sutras: A Sourcebook for the Study and Practice of Patanjali's Yoga Sutras, published by Integral Yoga Publications. His latest book is Inside Patanjali's Words.