January 9-10 join senior sannyasi Swami Gurucharanananda, lovingly called "Mataji," to discover new and everyday ways to experience happiness. "Just be happy!"—it is easier said than done, but it is not impossible. We know that happiness cannot be bought or sold, therefore we must earn it ourselves. Explore the possibility of being happy on purpose. The whole creation wants to be happy, not just you. Learn the secrets of happiness, including spontaneous generosity, selflessness, recognizing the Self in all, and more. Join us for this online workshop to play with different actions and reactions to life as it unfolds before us. Start now. It's worth it!
"Happiness is not something ready-made. It comes from your own actions." — Dalai Lama
Daily Talks:
Saturday Morning: "Happiness Is"
Saturday Afternoon. "Enjoy What You Do"
Sunday Morning: "Have Mind In God, Hands in Service, Heart in Love and You Will Be Happy"
Live sessions with Mataji on Saturday at 10–11:30 am and 2–3:30 pm, and Sunday at 10–11:30 am ET.
You will have access to the video recordings for 8 weeks after the program ends, until March 7.
In addition, you will have access to the Ashram's Live Hatha Yoga classes at 5 pm ET, recorded Ashram meditations, and inspiring talks with Sri Swami Satchidananda. You will also have access to an online social community to connect and communicate with other participants about this course. Register here.
Presenter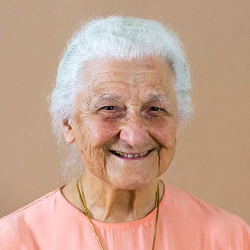 Swami Gurucharanananda "Mataji"
Swami Gurucharanananda, lovingly called Mataji, is a senior sannyasi (monk) and disciple of Gurudev, Sri Swami Satchidanandaji Maharaj. She lives at Yogaville and serves on the Sannyas Board. Mataji is a guided meditation leader and Hatha Yoga teacher, an inspiring speaker, Integral Yoga® mentor, and private retreat guide. She loves to offer
pujas
(worship service), read Sri Gurudev's teachings at lunch, and play the violin as a wake-up call in the dorms! In 2014 she was awarded the Swami Satchidananda Lifetime Service Award. Mataji always has a loving, joy-filled smile ready for you!  
Learn more about Swami Gurucharanananda "Mataji"