Archives
Support the Magazine
Integral Yoga Magazine
is a nonprofit. Our mission is to share the wisdom of the Yoga teachings—to inspire, comfort, support, and uplift readers around the world—through this website and our eMagazine, which mails weekly. Do you share our aspiration? We can't do this without your help. Please donate today. Thank you. Om Shanti.
eBooks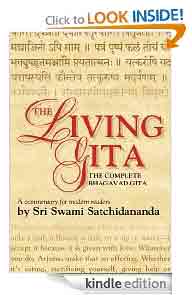 The Living Gita: The Complete Bhagavad Gita: a Commentary for Modern Readers
by Sri Swami Satchidananda
Get this and other ebooks by H. H. Sri Swami Satchidananda.